The History of Lower Collaton Farm and its Outbuildings
Lower Collaton is an old traditional Devon farmhouse built at the source of the River Gara, which supplies Slapton Ley. It was called Greater Collaton up until 1900.
In our research we have been fortunate that Collaton's name is in most ancient records, although we have had to be very careful not to confuse it with several other old Devon farms and small villages of the same name. Our research has focused on finding out who lived here over the centuries, and as much about them as we could find.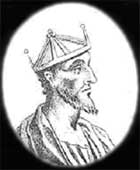 Collaton was owned before the Norman Conquest by Countess Gytha, sister of the Danish Earl Ulf, wife of Earl Godwin of Wessex, and mother of King Harold II of England.She was born in 1024 in Herefordshire, the daughter of Thorgil Sprakaleg, was the first cousin of King Canute, and was descended from the Danish King Harald Bluetooth. Her daughter Eadgith married King Edward the Confessor. Her four sons were all killed in 1066 at the battles of Stamford Bridge and Hastings. After Exeter fell to the Normans she escaped to Steeple Holme in the Bristol Channel, and from there in 1069 to St Omer in Flanders. One wonders how she resisted William's armies for three years; she owned a large area of Devon and Cornwall from St Michael's Mount up to Tiverton. Interestingly a lot of this land (including Collaton) was to be found in the Deed of Trust created by Elize Hele nearly 600 years later in 1632. The Exeter Domesday Book in 1086 records Coletona as being owned by Iuhellus, also known as Iudhael, son of Aluredi.
Over the next 200 years Collaton and the surrounding area was owned by Roger de Nonant, and then the Valletort family, who were granted it by Henry I in the early 12th century. Richard de Scoz (the Scot), a tenant of Collaton, was Seneschal (Steward) of the Guild of Totnes from 1284 to 1286.
In St Michael's Church, Blackawton, it is recorded that Richard de Coletone was Rector from 1308 to 1309. He was the son of Willemus and Isabella de Coletone, tenants of Collaton for 1/20th fee. On his resignation from Blackawton Richard was granted a pension of 40 shillings p.a. 'de camera', until provided with another benefice. He was soon appointed Rector of Petrockstowe, and in due course became Precentor, but declined the Archdeaconry of Exeter. In 1328 he was appointed Dean of Exeter, but it would appear he did not take this appointment seriously. Due to being 'refractory' (stubborn, perverse, obstinate, unmanageable) he was excommunicated the following year. The Bishop had felt he was spending too much time away hunting, and his excommunication was a warning to other wayward priests!
At this time Halwell/Holwell Combe (including Collaton) was the property of the Halghwills/Holwills, one of whose co-heiresses bequeathed it to the Verney family. It was purchased by Sir John Hele in 1497, and Collaton was to remain with the Heles, and the Hele Trust, for the next 400 years.
Elize Hele on his death in 1632 set up the Hele Charitable Trust for the education of poor children. The Trust comprised, amongst others, of farms in South Devon (Plympton, Modbury, Halwell, Blackawton and Harberton). Elize was a very wealthy man, and the trust was then valued in excess of £100,000, equating to many millions at today's prices. Records of Elize's funeral wake indicate that he was given an excellent send-off party, with much wine and meat consumed! King Edward VI (KEVICS) School in Totnes was amongst those which benefited from this charity. The tenants of 'one messuage & tenant in Collaton' were John Wadland, Leonard his son and James his brother. John was church warden at St Michael's, Blackawton. The value of Collaton was put at £50, with an annual rent of £2 plus two capons. A heriot (new tenant's premium) was either £3 or 'the beste beaste'.
By the mid 18th century the tenants of Collaton were described as 'yeomen', several of whom (such as Rev. John Perring) sublet the farm. There are a number of records of apprenticeships at Collaton, mostly of pauper children aged 8 to 11, born out of wedlock. One such was Nicholas Crowbert, 'Born bastard in Halwell, 1784. Taken to Townstall; mother died when aged 7; year with mother's sister in Blackawton. Apprenticed to Mr Perring at Collaton in Halwell; 2 yrs Plymouth Dockyard, 5 months servant to Mr Ellis in Blackawton, 7 months with Mr Oldrieve, 1 month with Mr Jarvis, 5 months again Mr Oldrieve, then 5 months Plymouth Docks. Enlisted Easr Devon Regt 51st Foot, discharged after 7 yrs July 1815. Now a pauper.' Interestingly, Waterloo was fought in June of that year. Possibly Nicholas was discharged after the famous victory.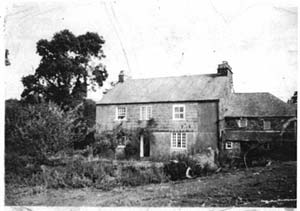 At the end of the 19th century the Hele Trust (which is still in operation) decided to dispose of some of its property, including Collaton, which was purchased by Joseph Bond in 1903. The Bond family had farmed in the area for many years, and Joseph came to Collaton from Blackdown Farm, only less than a mile away. During the war, when land from Slapton to Blackawton was requisitioned by the army for preparations for the D Day landings, the requisition boundary was placed outside Lower Collaton Farm's back door. The Lethbridge family, (daughter and son-in-law of Joseph) who lived there at the time, were not allowed to enter or farm the fields in front of them. Joseph's great-grandsons Philip and Richard Bond currently farm immediately around the original farmhouse.
Recently, whilst walking in a nearby field, we found a bronze age flint scraper dating from about 4000 B.C. - Collaton still has many secrets left to tell!